#3 – Insanely Twisted Shadow Puppets
by Michel Gagné
AN INTERVIEW WITH MICHEL GAGNE
An animator with decades of industry experience and credits on projects like The Iron Giant, The Incredibles and Ratatouille could easily continue to punch the clock and count the days until the next Pixar project starts up.
But for Michel Gagné, a graduate of Sheridan College, these experiences haven't fully satisfied his dreams. Handfuls of successful book and comic releases brought him international acclaim, and by the Fall of 2004, Gagné was ready to get his latest independent animation off the ground. He teamed up with Flash-animation whiz Jayson Thiessen and brought his Insanely Twisted Shadow Puppets project to Nickelodeon. Mike Hogue, another Flash animator, joined the team, and 12 beautifully-animated interstitials were born and headed for Nickelodeon's Halloween Shriekin Weekend in the Fall of 2005. This success led Gagné to even greater things that you'll learn about below.
AARON SIMPSON: Were you a fan of shadow puppetry prior to conceiving this project?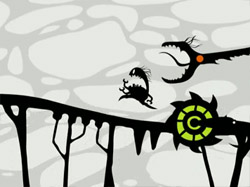 The Great Shadow Migration which was done a few years before I even thought of doing the shadow puppet shorts.
AARON: What made you choose Flash to produce this project?
MICHEL: I started seeing TV series and short films that were animated using the software and the quality was getting pretty impressive. I hooked up with Jayson Thiessen and we did a couple of tests and that gave me confidence that I should give Flash serious consideration. The fact that everything was done in silhouette really lent itself to the Flash process.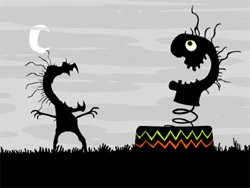 Studio B in Vancouver, BC. He showed me some of his work and I was very impressed. A couple of weeks later, I gave him a call and asked him if he'd be interested in working with me on a project.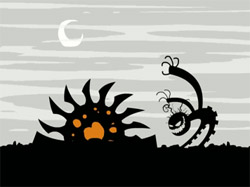 Nickelodeon.
Once the financing came through, Jayson had become a director on the Pucca series and he no longer had the time to devote to the project. I had to find a replacement pronto if I was to meet my deadline. That's when Mike Hogue came into the picture. I'd seen Mike's work online and he'd emailed me a couple of times in the past. When I asked him if he'd be available to work on the project, he immediately agreed.
Michel's Prelude to Eden

AARON: You've used the digital animation software Animo on a number of projects including Prelude to Eden and your Ratatouille segment. How does this compare to Flash?
MICHEL: Animo is based on the more traditional animation procedure. When I use Animo, most of the time I still draw the animation on paper. I use Animo for scanning, ink & paint, color model, compositing, etc. I'm very familiar with Animo because I was part of the team that helped test and design the software when it was being created. A lot of my input went into it. With the way my brain is wired, Animo is completely intuitive and easy to use. I've been using Animo for about 15 years and it still remains my favorite animation software.
AARON: Do you have a release yet for your PC video game Insanely Twisted Shadow Planet?
MICHEL: We're working hard on the game and we hope to have a release date announced in the coming months. The thing is, we started this game as a simple side-scroller, but it has evolved into something a lot more sophisticated and ambitious. I'd love to show you some of the game-play we screen-captured to show investors, if only I could. It would blow your mind!
AARON: Is the game a mix of 3D animation and 2D?
MICHEL: Yes it is, although the final look is definitely 2D.
AARON: Explain your process for animating elements for the game.
MICHEL: First, I hand-draw the animation. Then, I use Animo to scan, ink & paint, composite, etc. Once the animation looks the way I want it, I render it as a series of tiff files, making sure that the background color is set as alpha-channel. Once this is done, we import the elements into the game engine. After that, the programmers work their magic.
AARON: With the game, you've landed your "Insanely Twisted" label onto 3 mediums, a book (Rabbits), TV (Shadow Puppets) and now a video game. Was this your plan all along?
MICHEL: No, I never look that far into the future. I just keep doing what I'm doing and everything always seems to fall into place.