#1 – Adventures of Mr. Coo, Episode 4
by Nacho Rodriguez
AN INTERVIEW WITH NACHO RODRIGUEZ
Nacho Rodriguez, a 27-year old animator out of Barcelona, has taken the #1 slot in the Flash Animation 10: Best Animated.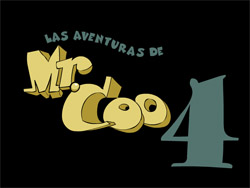 Adobe Master Collection, courtesy of ColdHardFlash. In one box, Nacho will find a combination of all of Adobe's flagship creative products, including all-new versions of Adobe InDesign® CS3, Photoshop® CS3 Extended, Illustrator® CS3, Flash® CS3 Professional, After Effects® CS3 Professional, Adobe Premiere Pro® CS3 and Soundbooth® CS3.
Join us in celebrating Nacho's film, Mr. Coo #4, the winner of the Flash Animation 10: Best Animated.
AARON SIMPSON: Congratulations on winning the Flash Animation 10: Best Animated. What other recognition has the series received?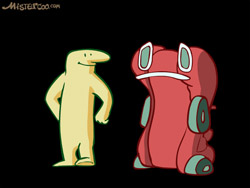 Nontzeflash 2005 3rd prize, Newgrounds monthly top 5, and were nominated at the 2005 Flashforward Film Festival. Also, the series won the Best Animated Webisode at the 2007 Best in the SW Festival. But I don't participate in as many contests as I should, because it bugs me to send DVD copies to festivals, when it's so easy to share a SWF online. I'm too lazy, I guess. But why make things heavy and slow?
AARON: What type of influence do you think Flash has had on independent animation?
NACHO: The first one is obvious: it has opened up the possibility for almost anyone to animate; with no need for big or expensive equipment. From my point of view, that popularization is good, but it brings with it some unavoidable, ugly side effects – we are overloaded with crappy animation. Not only regarding artists' technique, where there's always too much self-indulgence ("if it moves, it's animated"), but also the stories and the message.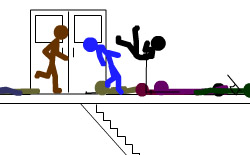 Xiao Xiao, without adding anything new to the original.
On a positive note, this democratization of animation has also allowed talented artists to be discovered. The animation community Newgrounds is a good example of all this: teenage hormones repeatedly producing more of the same, but now and then something really interesting appears. Salutations to Tom Fulp, the founder of Newgrounds, who is a very nice guy.
A great thing about Flash is the variety of techniques it allows you to mix – video, frame-by-frame, interpolation, code, etc. That gives independent animation a vast playing field, which is too often overlooked.
AARON: As you point out, many well-known Flash animations have proven that poor design and sloppy animation can still find a big audience. Is the audience less discerning than in years past?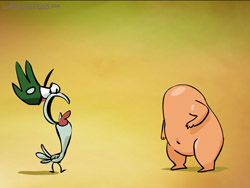 The Neverhood, which I played when I was 17 or so, and found many similarities with Mr. Coo. I surely have taken things from there. But I was surprised to find the very inner story of the game to be a very naive and Disney-esque maniqueism.
AARON: Do you storyboard the shots before animating?
NACHO: No, I feel all that planning suffocates my creativity. However, it all depends on the kind of work. In other projects strong planning is needed, indeed, great creativity goes in the planning. But Mr. Coo has grown liquid and without bounds, and I'd like to keep it that way.
AARON: Tell us about the score in Mr. Coo and how you create it.
NACHO: I searched a lot through the web and through open music libraries, and mixed with care. However, I'm considering having new custom music composed for Mr. Coo. Maybe I'll find a jazz or rock band interested in a collaboration.
AARON: Can you offer any audio production secrets for our audience?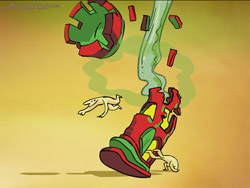 Adobe Audition, but much of the mixing can be done within Flash. Despite the unfriendly interface (that scroll and zoom are a drag), you can cut and paste and tweak the volume until the track fits your needs. It's also quite easy to merge two tracks (in two layers of the timeline) with nice results.
There are plenty of sites with sound effects and loops. It's a good idea to keep filling your own database (I have it stored as an external Flash library). Sometimes the best way to find a sound is to Google "sproing.wav", or just record it yourself with a microphone. At first, searching for music and sounds can be hard work, that's all I can say.
And there's always the option of looking for a collaboration with a band: they play your music, you animate their videoclip. I'd like to do that king of trade some day.
AARON: When did you come up with the Mr. Coo character?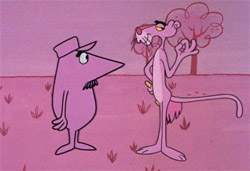 La Linea, a character by Osvaldo Cavandoli, but I hadn't seen this beforehand. After all, it's an easy character to draw, and that 'nose style' is well known from 50′s animation. I just had to give him a name. That always hurts me, because Mr. Coo isn't really Mr. Coo, and it cannot be contained into any name. So I tried to give him one that sounded void and ridiculous.
AARON: So if Mr. Coo isn't Mr. Coo – what is he?
NACHO: Creativity can be defined as giving form to something which doesn't have form, so Mr. Coo is the formless reality which inspired Mr. Coo. But since these are words, and words are heavy forms, it's all bullshit. Blah blah blah.
AARON: Let's look at some of your Mr. Coo artwork. Click on a thumbnail image to begin viewing: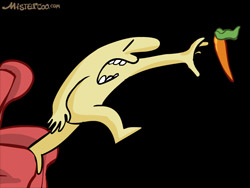 her own blog.
AARON: Do you have plans for more episodes of Mr. Coo?
NACHO: I have in mind a big story about Mazinger-like super robots, and we started developing it with Aniboom. But we didn't find the perfect format and script for it, so now it's kind of paused. But I'm still in contact with Aniboom, who are great collaborators. I'm sure there'll be more Mr. Coo, just maybe the next steps will be smaller clips.
AARON: Several of your projects are produced without dialog. Is this intentional? And if so, why?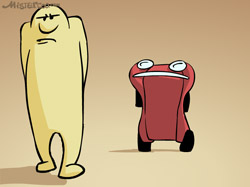 Autodesk Animator. How did you discover this software?
NACHO: A friend of my older brother brought it home one day (sounds so strange, that pre-internet era). The first thing I learned was the frustration of drawing 8 whole drawings, which wouldn't fill a second of animation.
AARON: Had you animated traditionally prior to that?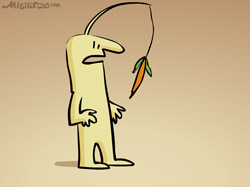 my old website, but I'm afraid half of the links are broken. I liked the great potential of Flash, and tried a variety of styles and techniques. Later I focused on old-school animation.
AARON: What were your favorite projects when you worked for Animaticos.com and Salvamania?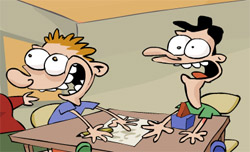 Cuñas en coña series, a project that was a collaboration with some very funny radio comedians. I animated over the audio of their radio sketches. It was great fun, and allowed me to rejoice on sexually explicit graphic humour, which is almost a must to good cartoons. They're all in Spanish I'm afraid.
AARON: If someone wants to teach themselves animation, where should they start?
NACHO: John Kricfalusi is giving valuable, daily lessons at his blog. It's classic cartooning, and we should remember that there are many other animation styles (check the wonderful achievements of Russian animation, for instance). But the principles are the same. Like everything else, it can also be blandly copied and dulled. I've seen quite a few Kricfalusi imitators already.
My advice is to learn from everyone, but copy no one. Sometimes I watch very silly manga films, just to see their virtuous animation.