#10 – Neenja, Episode 4
by Hayk Manukyan
AN INTERVIEW WITH HAYK MANUKYAN
Neenja, an animated series about discovering hidden powers, is perhaps a bit autobiographical.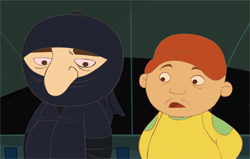 Hayk Manukyan uncovered his hidden talents at a very young age, unlike the hero of Neenja, Harut, a balding cab driver. In real life, the co-star of Neenja, Sah, is an actual animator who helped bring the project to life. The two worked together at the Hollywood-based studio Six Point Harness, where Neenja was set into motion as an original production.
Let's find out how Hayk brought his vision to life, and what he has in store for his own personal episodic arc.
AARON SIMPSON: How does an episode of Neenja come together?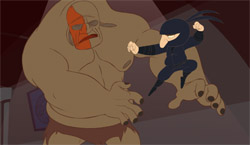 Brendan Burch, CEO of Six Point, if they'd be interested in helping finish Neenja. Brendan was excited about the whole idea and so I brought Neenja to Six Point.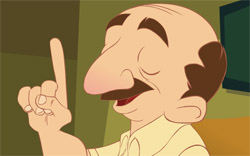 Angelo Vilar (an amazing artist at Six Point) doing the backgrounds and storyboarding.
AARON: Is the lead character Harut based on someone you know?
HAYK: Harut is actually a combination of people in my family, people I've gone to school with, and mostly me.
AARON: Tell us which Los Angeles-based Flash animator co-stars in your series?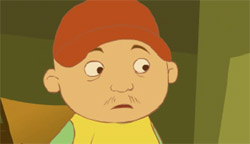 Saharat Tantivaranyoo, a friend of mine at Six Point. Everything from the way he looks, talks, and acts made it into that character, also called Sah.
AARON: What type of recognition has the series received so far?
HAYK: Part 1 of Neenja won a first place award on Newgrounds and it was also featured here on Coldhardflash.com. The feedback I got from people was also pretty good.
AARON: Neenja is about a man discovering his talents and harnessing them. How did you learn to harness your animation skills?