#4 – Waterlollies
by Adam Phillips
AN INTERVIEW WITH ADAM PHILLIPS
Adam Phillips, the Australian animator/director behind Waterlollies, is one of two artists whose work is listed on BOTH Flash Animation 10 lists. Back in 2006, Prowlies at the River, the 3rd installment in Adam's popular Brackenwood series, was listed as #4 on the Most Influential list, an accolade due in no small part to his vast fan base.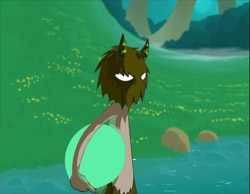 Newgrounds.com, the popular Flash animation community that initially helped shed light on his work. He typically has a film amongst the top 10 rated films of all time, and a release at Newgrounds usually results in 2 million or more views for Adam's Flash-animated episodes.
But it's not just millions of views that have brought Adam acclaim. He's also been honored with scores of awards including the Newgrounds Tank Award, a nomination at Annecy, a mention as an official honoree at the 2008 Webby Awards and a handful of rubber, orange arrows from the Flashforward Film Festival.
3-part interview that took place right here at ColdHardFlash.com in 2005. If that interview is too old for you, we've cooked up a brand new one.
AARON SIMPSON: Congrats on winning Best Movie at Newgrounds' 2008 Tank Awards, which was announced last week. Is your trophy cabinet starting to fill up?
ADAM PHILLIPS: It's dominated by big, orange rubber arrows, but yes there's now a space issue… in a good way! I've decided to build a dedicated shelf here in the office.
Ryan O'Loughlin (a close friend and colleague from my time with Disney Australia) is a completely new thing for me, not to mention an exciting learning experience. For Brackenwood, I've been writing test scenes – including dialogue which is especially unfamiliar territory for me – and showing them to Ryan who pulls them to pieces, giving me critiques and notes. He's exceptionally talented not only in animation but also in the art of story, so I was amazed when he expressed interest in Brackenwood.
AARON: How far into the story process are you?
Toon Boom Digital Pro these days so I'm totally looking forward to making a full-on Brackenwood with it. We've even discussed the possibility of using Digital Pro for the Brackenwood feature.
AARON: So we haven't seen the last of your Flash-animated projects?
ADAM: As long as I have a predominantly SWF audience, I'll be creating SWF content for my site. Even as my more serious projects outgrow Flash and graduate to Digital Pro, I think I'll always have the latest Flash installed on my PC for the web stuff. After all these years I find myself, uhm… attached.