Radiohead Contest Starter Kit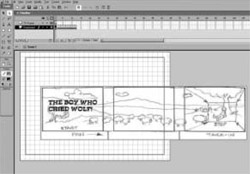 Creating an Animatic overview which you can download here. It offers technical set-up recommendations and a great overview of how to get your ideas in motion. Check out the Friends of Ed Flash books for more detailed instruction.
You can also download this Flash animation template – it's 728×486 pixels. Thanks to Stephen Levinson for sharing. If you want to animate in Square Pixels, use the 720×540 template provided here (need to register to download – but its free).